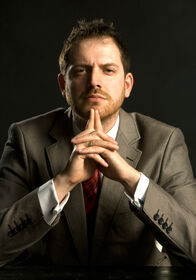 Joe Abercrombie is a full-time fantasy author born in Lancaster, England on
December 31st 1974. He currently lives in Bath with his wife Lou and two daughters Grace and Eve.
Abercrombie attended Lancaster Royal Grammar School before going to Manchester University to study Psychology.
After graduation, Abercrombie moved to London to work at a TV post-production company before taking up a career as a freelance film editor. It was during time off between freelance jobs that Abercrombie began indulging a life-long passion for fantasy writing.
The First Law Trilogy
Edit
Having developed characters and plot elements since University, and with support and encouragement from his family, Abercrombie set about writing for The First Law trilogy in 2002. After completing the manuscript for 'The Blade Itself' in 2004, he began shopping it and his concept for the three books to a variety of publishers, with limited success until a friend passed it onto Gillian Redfearn at Gollancz. Seeing the potential in the series, Gollancz signed Abercrombie up, going on to publish the first book in 2006, with the sequels 'Before They Are Hanged' and 'Last Argument Of Kings' following in 2007 and 2008 respectively.
Best Served Cold
Edit
The Heroes
Edit
Short Stories
Edit
Ad blocker interference detected!
Wikia is a free-to-use site that makes money from advertising. We have a modified experience for viewers using ad blockers

Wikia is not accessible if you've made further modifications. Remove the custom ad blocker rule(s) and the page will load as expected.